July 18, 2020   /  Knitec Enterprises, Kayla Gephart
Hoteliers are leaving no stone unturned as they examine their properties for opportunities to keep guests and staff safe under social distancing guidelines. With its fresh air and sunshine, a hotel's outdoor space naturally makes guests feel more at ease. Revitalize your outdoor area with fresh technology that can withstand the elements.
Rain or shine, guests expect outdoor environments to have the same amenities as indoor lounge areas, including the ability to catch the game or the latest news. Select a TV that is rated for outdoors, which means intense brightness that can compete with the sun and weather rated components. Here are our top picks for Outdoor Commercial TVs:
Samsung's Terrace, available in 55-75", allows guests to experience vivid, legendary picture quality outdoors with QLED 4K and 2,000+ nit brightness levels. Rain or shine, enjoy year-round outdoor entertainment with an IP55 rating that ensures protection from water and dust. The intuitive Smart TV features are powered by Tizen, for a simplified, effortless viewing experience.

Peerless XHB Display is built to withstand the harsh outdoor elements. Featuring a fully sealed, IP66 Rated design and a patented Dynamic Thermal Transfer System, the Xtreme High Bright Outdoor Displays are maintenance-free*, offer 2500nits of light output to combat high ambient lighting conditions, and are fully protected against water, dust, moisture, and insects, while the ambient light sensor automatically adjusts the display's brightness to optimize the power consumption and enhance the viewing experience.

Sealoc's ProLoc Series is built for commercial use, designed to be run 24 hours per day, 365 days per year. This industrial, 1080P HD, 2,500+ nit display is capable of being used in virtually any environment. You'll feel secure due to its IK10 impact protection rating, IP65 water and dust protection, 100% field serviceability, and an outstanding manufacturer three year warranty.

Peerless's Ultraview is an all-season solution for outdoor entertainment. This outdoor TV is all weather rated, maintenance-free, and has an operating temperature range of -22°F to 122°F. With 4K resolution and an IPS panel, the UltraView meets the full UHD specifications, providing exceptional color and video quality from any viewing angle. The TV is also equipped with a High TNI panel, which allows for direct sunlight readability without the risk of isotropic Blackout.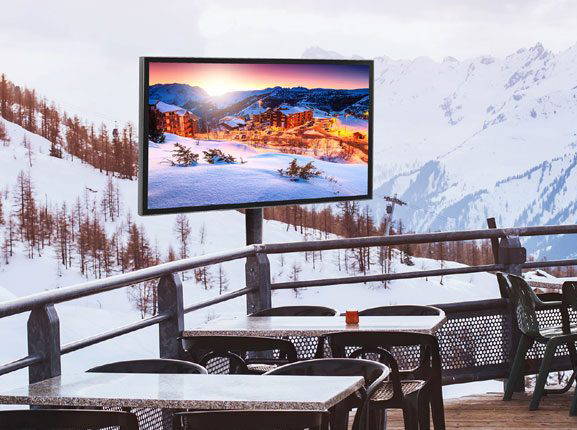 2. OUTDOOR DIGITAL SIGNAGE
Outdoor Digital Signage allows you to inform guests of the latest scheduled events, advertise your brand, and help guests navigate your property. Similarly to Outdoor TVs, Outdoor Digital Signage is brighter and heartier than its indoor counterparts. Here are our top picks for Outdoor Digital Signage:
Samsung's OH85F is a completely integrated, self-contained outdoor digital signage TV that is certified to withstand the elements and provide excellent visibility around the clock, in any light. They are fully equipped for outdoor viewing and feature an innovative cooling system so there's no need for a supplemental heating or air conditioning unit. All of these features are housed in an ultra-slim design with an embedded power box and durable Magic Glass that protects against vandalism and graffiti.
LG's XS Series clearly delivers content and attracts public attention with its 2,500 nit brightness, which makes it a top contender for the ultimate outdoor display. The screen brightness is automatically adjusted depending on the ambient light, increasing in light for better visibility, and decreasing in darkness for efficient power management. Additionally, the XS series utilizes a Quarter Wave Plate (QWP), which promises clear visibility even when guests are wearing polarized sunglasses.
NanoLumens' Nixel Series can be customized to fit the needs of any environment, enabling you to reliably communicate information to captivated guests. With pixel pitches as low as 1.56mm, the Nixel Series™ displays provide space efficiency, increase advertising ROI, and minimize environmental impact. The Nixel Series™ is the highest resolution display for outdoors on the market and is easy to install and maintain.
3. OOUTDOOR AUDIO SYSTEMS
Whether you're hoping to create a calming environment for outdoor dining or a festive summer feel by the pool, a proper audio system will help set the perfect mood for your guests. When equipping your outdoor space, select a system that can stand up to the elements and evenly blanket the space with consistent sound. Here are KniTec's picks for outdoor sound systems:
Sonance Speakers provide exceptional quality in a scalable outdoor speaker system that delivers even volume coverage throughout any size space. From small spaces that deserve even, balanced coverage of great audio performance to outdoor areas up to 3,500 square feet, Sonance Series are the perfect balance of performance and simplicity. Want great audio but without ruining your decor? Check out Sonance's rock speakers and subwoofers in natural colors and textures that are designed to hide in your landscaping.
HARMAN Pro Audio brings you some of the best complete sensory solutions on the market. With leading brands including AKG, Harman Kardon, Infinity, JBL, Lexicon, Mark Levinson and Revel, HARMAN is admired by audiophiles and businesses alike. Often featured in hospitality restaurants, bars, waiting areas, restrooms, guest rooms, pools, conference rooms, lobbies, and casino floors, HARMAN audio solutions enhance guests overall experience and keep them coming back. Plus, their software services power billions of systems that are connected, integrated and secure across all platforms.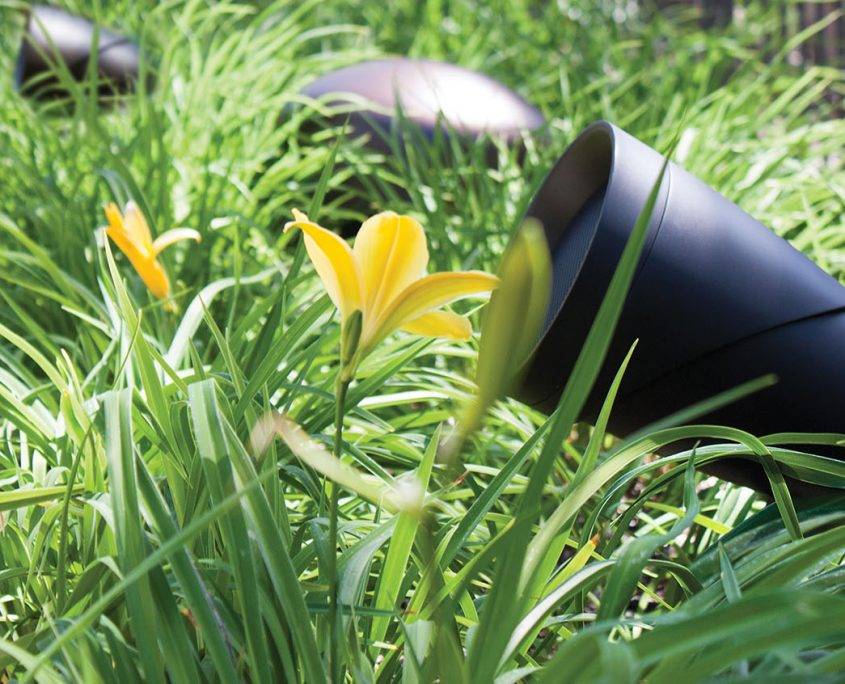 Outdoor TVs that can stand up to the elements – check. Digital signage that can compete with the sun to engage guests – check. Sound systems that set the mood and blend into your landscape – check. Complete your outdoor ensemble with a few accessories to help guests – and their devices – recharge. Here are our top picks:
The Resort charger allows hoteliers to add outlets to their outdoor spaces ASAP without the excessive additional outdoor wiring. This charging station can charge up to four devices at one time, and with its rechargeable internal power bank, it has the capacity to charge devices for weeks at a time. When it's low on power, simply plug it into a wall outlet to recharge. The Resort Charger is designed for outside use and comes with one charging stand, one drink bucket, and a charger.
Cape Soleil Furniture was created with hoteliers in mind. It offers beauty, function and simplicity in a selection of materials, patterns and tones designed to complement any style, from sophisticated elegance to casual and breezy. Using only the strongest components and the trusted Sunbrella fabric for cushions, Cape Soleil Outdoor Furniture puts the hotelier in the designer's chair to create unique spaces guaranteed to impress and endure.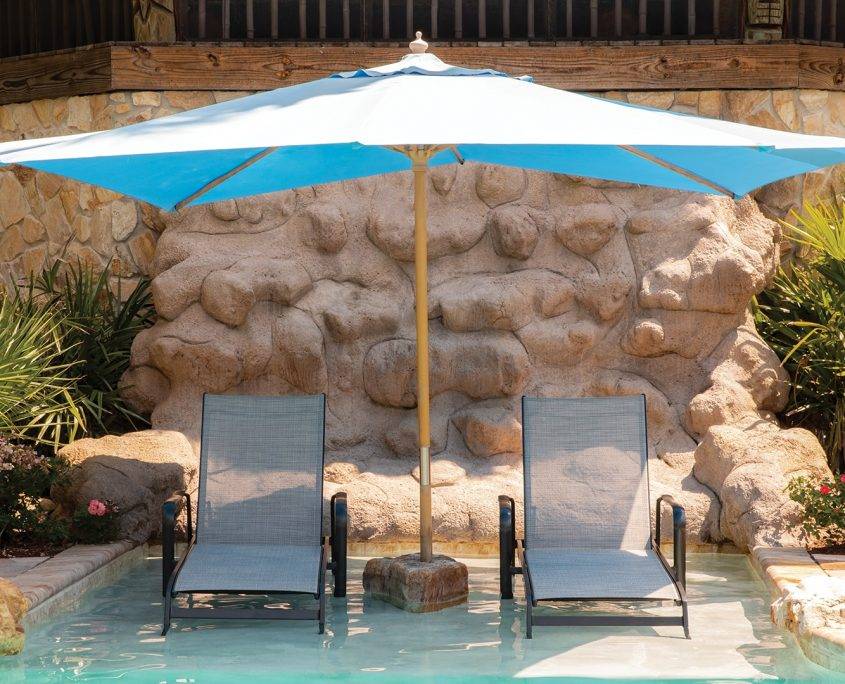 Considering purchasing a few pieces of Outdoor Technology? Call us for bundle pricing. Our Sales Representatives are happy to help from solution consultation, to pricing, and installation.
#KniTecKnows
#Outdoor 
#HospitalityTechnology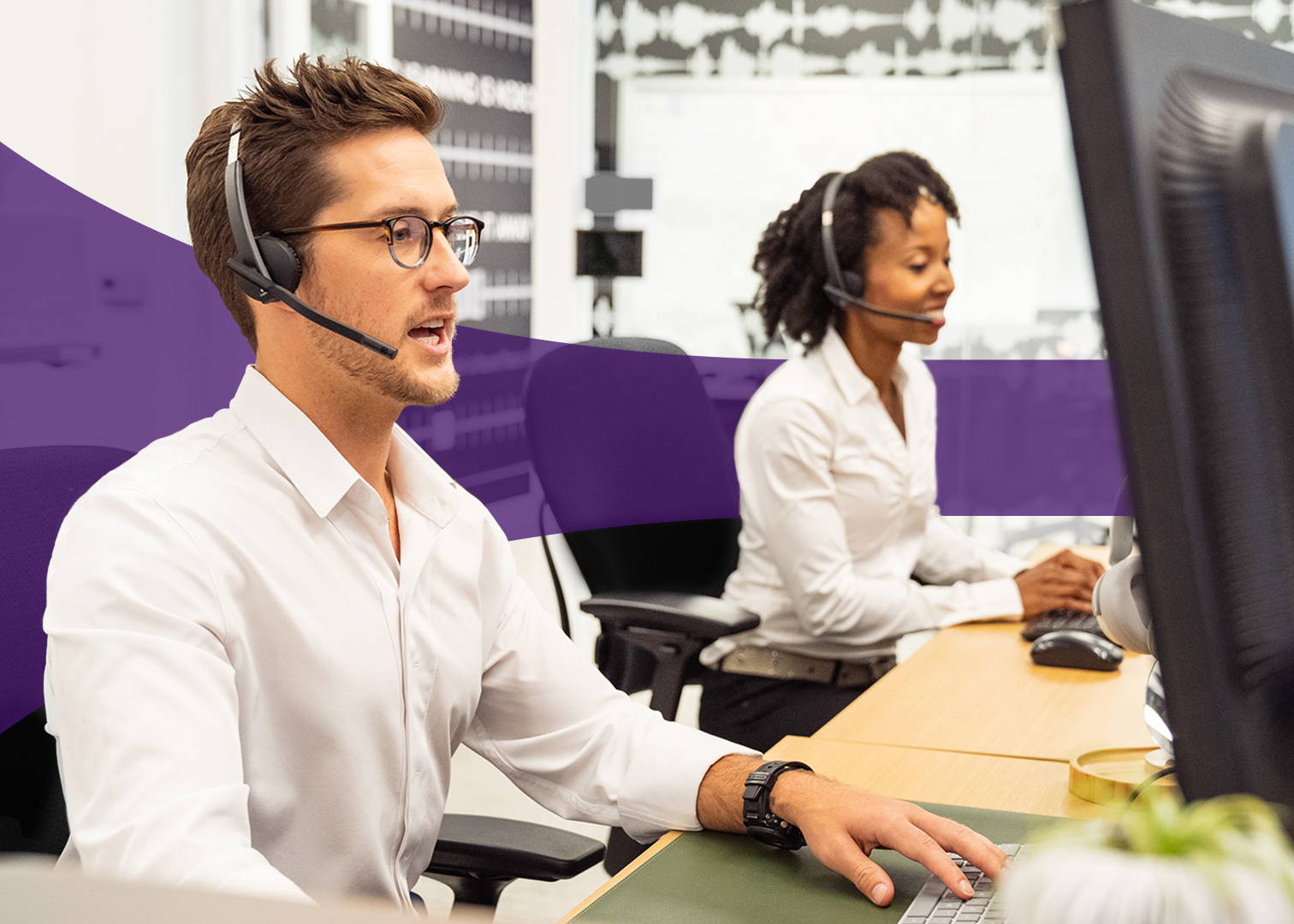 ---