OUR FOCUS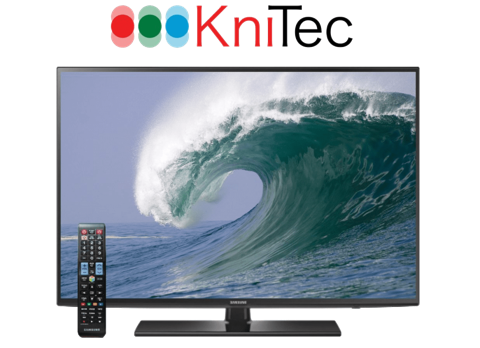 KniTec specializes in the hospitality televisions and the hospitality television market. Our competitors sell carpet, curtains, mattresses, and other soft goods. Their focus is on design; ours is on technology. Working directly with manufacturers is a challenge. They have endless departments and red tape which making the release of any shipment or the answer to any simple question a monumental task. KniTec alleviates those issues.
OUR BEGINNINGS -- From Entreprenuers
KniTec was founded on January 2nd 2002 when founder Eric Christiansen chose to break away from his current position as Director of Sales at Optical Laser (a distributor of mass storage products) and pursue direct-to-end-user sales in the constantly evolving technology market. Initially, KniTec participated in document imaging, NAS storage device and CD/DVD publishing sales but soon became a direct partner with Pioneer Electronics. During that partnership, Knitec was introduced to professional video products and the first professional plasma displays. KniTec pursued sales and relationships with clients that could afford plasma technology which was primarily hospitality clients.
As our success grew with Pioneer, other plasma and hospitality television manufactures approached KniTec to offer their products to our existing client database. Those manufactures included LG, Samsung, Panasonic, Philips, Sharp and RCA. KniTec has seen explosive growth in both revenues and technology. We are now proud partners with LG, Samsung, Panasonic, RCA, Philips, Sharp, Premier Mounts and Peerless Mounts and dozens of other manufacturers, giving us an excellent range of product offerings for our customers and potential customers.
OUR GROWTH-- To Enterprise
Our customer-centered focus has paid dividends over the past two and a half decades. KniTec is now the largest hospitality technology provider in the country.  We've leveraged our relationships with manufacturers to grow into other verticals, including healthcare, government, education, restaurants, retail, and houses of worship.
We've grown our product offerings to become not only a complete hospitality technology provider (check out our hospitality appliance offerings!) but also a force in the ProAV world. We can supply not only your Televisions, Digital Signage, and DVLED, but also the audio, control, and cabling. KniTec is a one-stop-shop for your hardware needs.
Our relationships with our manfacturers are critical to our mission of providing our customers with industry-leading pricing. KniTec is a proud Samsung Platinum Partner and 
Emerging Tech Solution of the Year Award Winner 
and an
LG Spotlight Partner
-- you can
read the article here
.
Most Hotel Management, Ownership, Construction and Development companies depend on a team of consultants to provide up to date information and pricing for the rapidly changing hotel technology market. Consultants generally specify technology which provides them the greatest financial incentive and not the best technology for the property. KniTec's relationship with all major manufactures provides us a unique view of the market with the most up to date pricing, promotions and technical information. KniTec quotes dozens of properties every day and sells to hundreds of properties a month. That makes us very savvy on what manufactures are offering and what hotel brands are buying. Why pay a team of consultants top dollar for their opinion when you can get better information from KniTec sales consultants for free? KniTec also has a lab where the latest TVs and technology are tested and reviewed. We know hospitality televisions so well, we are commonly asked by manufacturers about the capabilities of their own product.
THE KNITEC PROMISE -- The Constant
Regardless of our size, our promise remains the same. KniTec partners and representatives will offer you the best product and price for each individual property without manufacture bias. We carry all major brands and give our customers a broad spectrum of technology and options for each property and their unique environment. We will always answer our phone, email, text or IM no matter the situation. We pride ourselves in taking on both our successes and challenges with a full steam ahead attitude. We exist to solve your technology problems and we'd love the opportunity to take on your projects!