Former 'Ewa Beach educator donates high-tech temperature tablets to help public charter school DreamHouse keep students safe this Fall.
Kayla Gephart – who taught math at Campbell High School in 'Ewa Beach, Hawai'i as part of the non-profit organization Teach For America (TFA) – believes that once you're a teacher, you're always a teacher.
"My years in the classroom were the most challenging and rewarding of my life. They made me who I am and led to a career coaching teachers and leaders across the country. I recently left education, but my students and the lessons they taught me are forever in my heart. I am so grateful for the opportunity to be able to still contribute, albeit in a small way."
Now the Director of Marketing for KniTec, a technology integrator, Kayla saw fellow TFA Hawai'i alum Alex Teece's GoFundMe campaign for two temperature tablets for the new public charter he co-founded called DreamHouse 'Ewa Beach.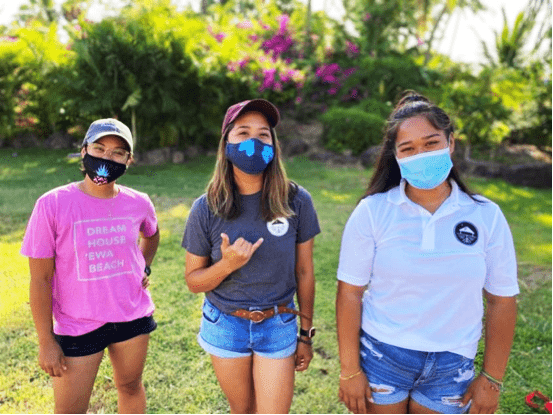 THE DEVICES ARE USED TO TOUCHLESS-LY DETECT FEVERS AND ARE INCREASINGLY BECOMING A STAPLE OF BUSINESSES AND SCHOOLS.
'"We sell those!"' I said aloud when I saw Alex's post. "And then I started preparing a pitch as to why KniTec should donate them to DreamHouse. But honestly, as soon as I mentioned the words "'Ewa Beach" and "education," the partners were in."
KniTec's roots are in Hawai'i, after all. While Kayla was in the classroom, her now-husband Brendan started working for the technology company. A small company then, KniTec relocated to San Clemente, California and has grown to be the largest dealer of hospitality displays in the country. Kayla joined the KniTec team full-time in January of this year in hopes of continuing to grow the company alongside her husband.
DreamHouse doubled in size and welcomed 200 students this August. "Our staff are practitioners of innovation, and they were ready for the challenge of adjusting to this new educational landscape," says Teece. DreamHouse's plan for supporting students has been well received by the community with a parent approval rating of 90%, compared to the overall Department of Education average of 56%.
"At DreamHouse, Alex and his team have created the type of learning environment that Kayla would talk about: unwavering, high expectations for students and staff, embedded social-emotional learning, and true community. We talked about it, but Alex and his team did it," Brendan, now KniTec's Vice President, says. "It's incredible to see. We're honored to be able to help in this small way."
---