October 27, 2020   /.  Knitec Enterprises, Kayla Gephart
Hotels continue to invest in new and improved ways of conveying information. Professional Audiovisual (ProAV), like Digital Signage and Audio, keeps guests entertained and informed while driving revenue for your property. Not sure where to start? Here are the top 4 areas in which Hoteliers can leverage ProAV to drive revenue.
With increasingly intuitive Content Management Software, Hoteliers can utilize a few well-placed Digital Signage Displays for a variety of purposes.
In the lobby, toggle between up-to-date safety protocols and property amenity directories. 

Help guests navigate your property with Digital Wayfinding. 

Entertain guests in waiting areas with premium content, hotel events, or interesting facts about the property.


For hotels looking to make an impact, consider installing a traditional Video Wall. Video Walls provide a large, eye-catching canvas to promote your brand. And unlike Static Signage, Video Walls allow you to change your message when you update your identity. Steer clear of the temptation to "build your own" with four televisions from a big box retailer. Instead, opt for true Video Wall displays, which have thinner bezels, have brighter displays, and are equipped to run 16 to 24 hours per day; you're guaranteed a more beautiful product that will save you money in the long-run. Excitingly, the quality of Video Walls continues to increase while both the initial and maintenance costs decrease. Once out of reach for many hotels, Video Walls are becoming a staple of many midscale and premium properties.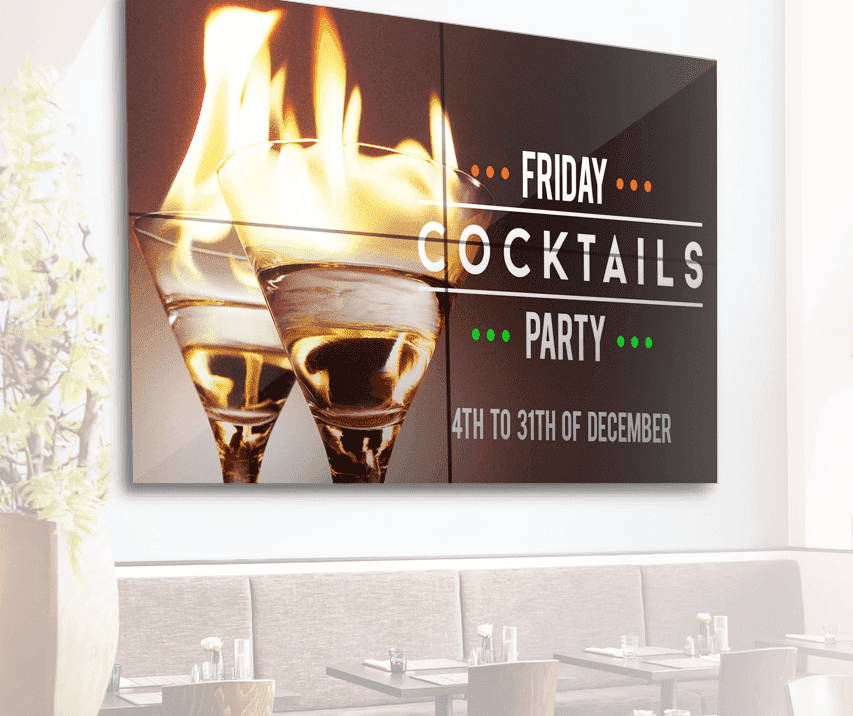 2. Restaurant Menu Boards
Digital Menu Boards are both visually engaging and incredibly functional when used in a hotel restaurant setting. Placed outside of a restaurant's entrance, Digital Menu Boards draw in potential customers to preview a curated menu and current promotions. Or in the bar, Digital Menu Boards can showcase hand-crafted cocktails and happy-hour specials, reducing the need for printed menus.
In a more Fast-Casual Dining environment like a café or deli, Digital Menu Boards allow Hotels to strategically schedule items to correspond with peak hours. Promote a quick-grab breakfast in the morning, a specialty coffee drink around check-in, and a midnight snack without having to manually update the board.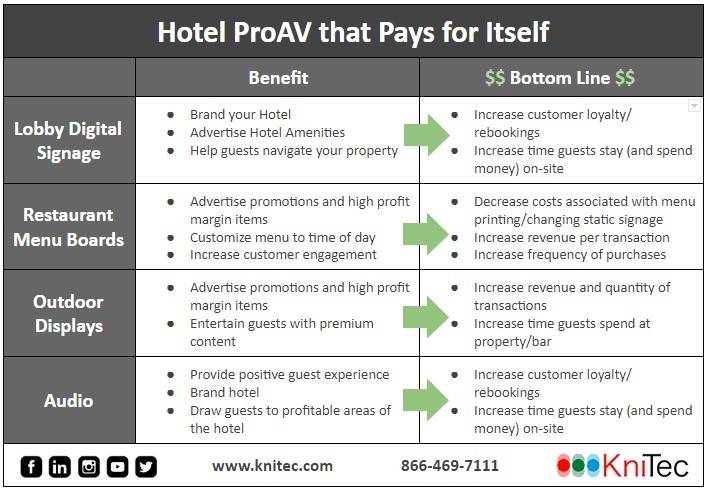 Like their indoor counterparts, Hoteliers use Outdoor Displays for promotions, wayfinding, and when paired with a tuner, broadcasting television content. On the patio, by the pool, or at the outdoor bar, Outdoor Displays captivate and entertain guests while driving revenue.
Concerned about the ability of Outdoor Displays to stand up against the elements? In fact, there are few ProAV categories that have seen more advancements in reliability and performance than Outdoor Displays. Display manufacturers have taken advantage of years of insight and have overcome what previously were viewed as insurmountable obstacles, like protecting against amplified heat and increasing brightness to compete with the sun. In fact, Outdoor Displays now have all the features that Hoteliers have come to expect in Digital Signage, like Content Management Software and connectivity, as well as a few unexpected features, like the ability to handle sunglass polarization, weather sealed components, advanced vandalism protection, and stress-free warranties. 
Outdoor Displays have moved from niche products to mainstream must-haves, and as a result, are available at prices that won't break the bank.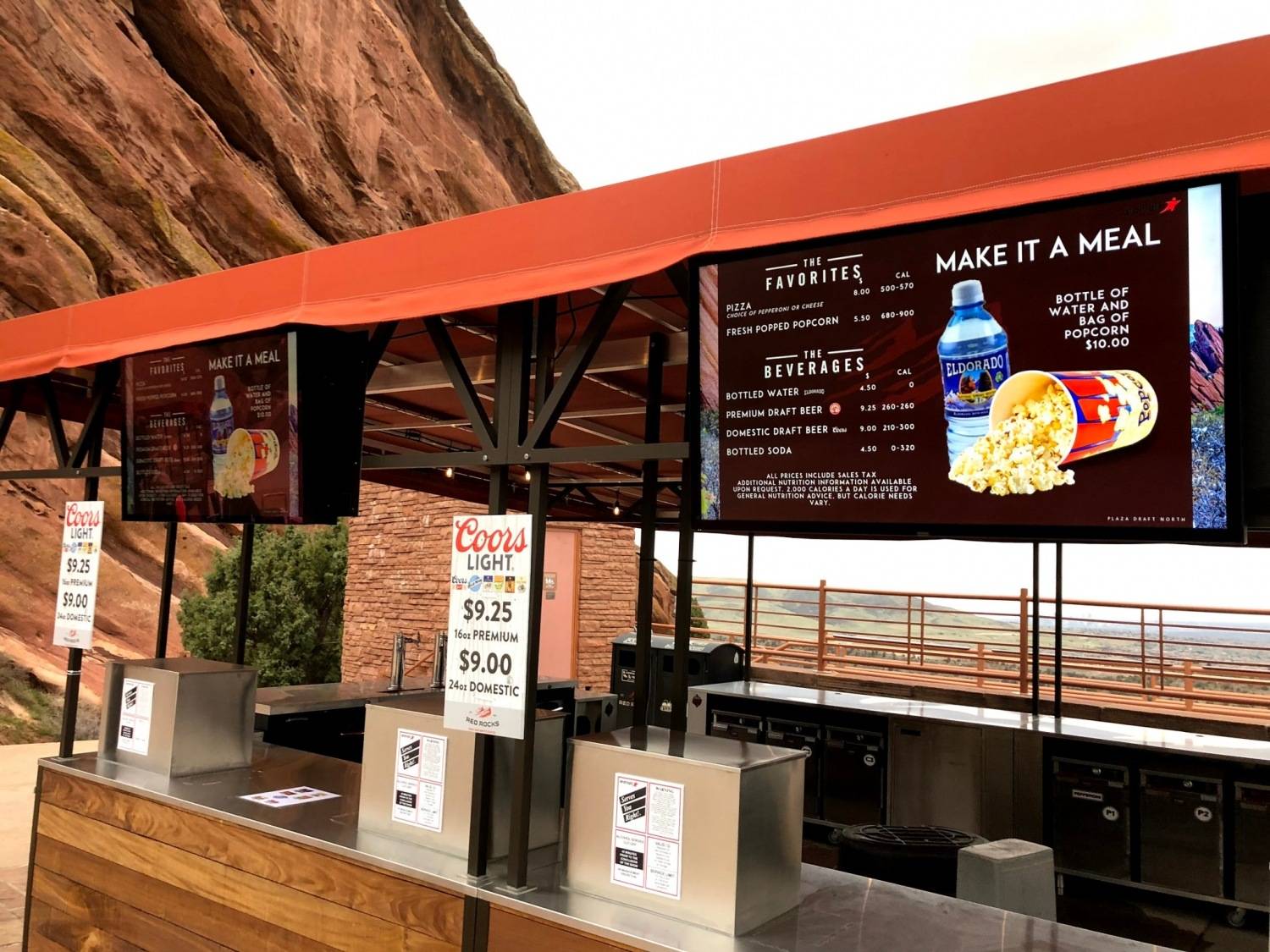 Audio helps hotels establish their brand identity as soon as guests set foot in the lobby. And a finely-tuned identity leads to loyal customers.
A professionally installed sound system helps hotel staff to directly and indirectly communicate with guests. With a simple change to the playlist and volume, audio can help transition your restaurant from an energized brunch to a low-key dinner. It can encourage guests to linger longer at the bar or signal when it's time to request the check. Help calm a crowded lobby during check-in or draw guests to the outdoor lounge.
With the vast array of options on the market today, you're sure to enjoy exceptional audio quality whether you're looking for simple consistent background music for your hallways or more sophisticated systems with zone control and paging options.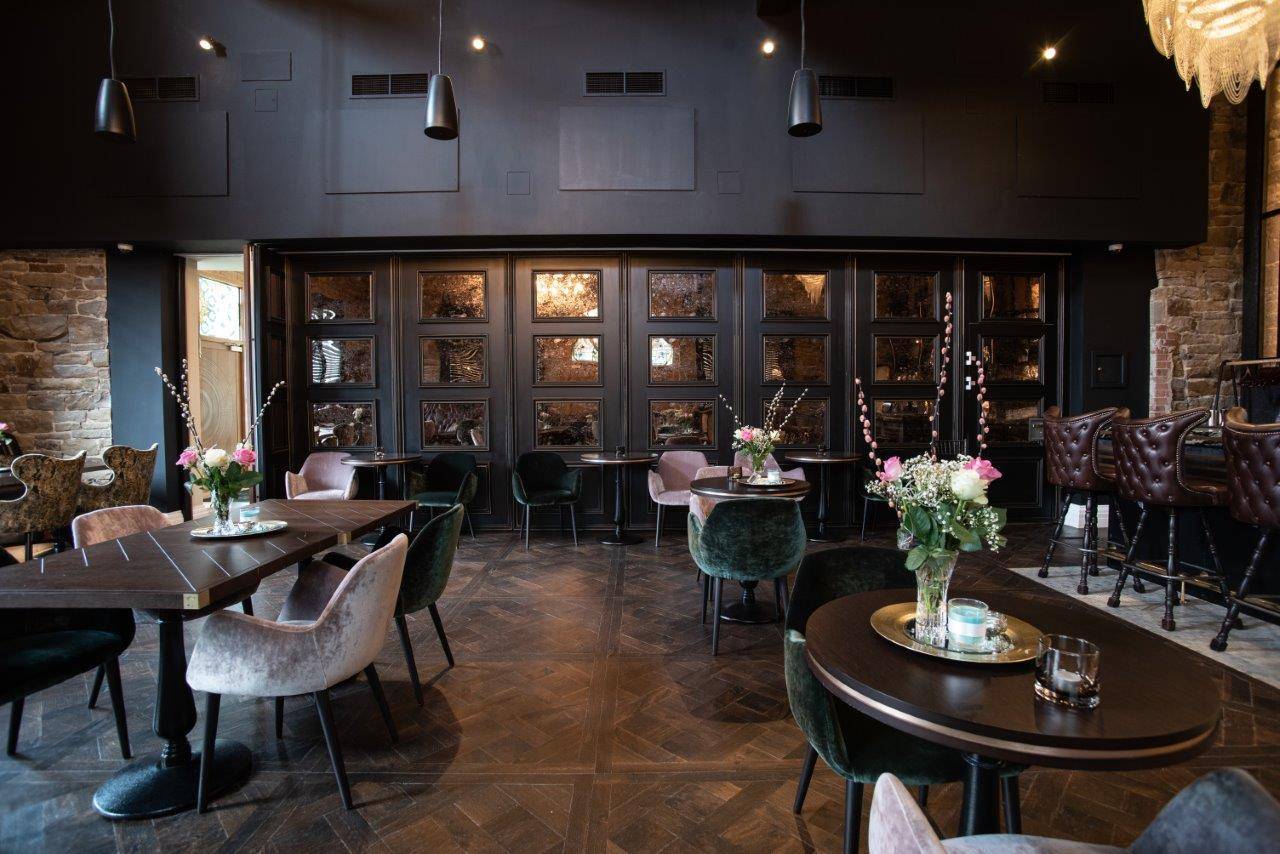 Talk with a specialist about how to create a system of Professional AV across your property that is beautiful, easy-to-manage, and pays for itself. KniTec, the industry leader in Hospitality Technology, launched a ProAV division in 2018, making us the ideal partner for your project. Whether for a Video Wall, Digital Signage, or whole-property Audio Systems, KniTec's Project Consultants will help you select the best solution at an unbeatable price.
#KniTecKnows
#ProAV 
#HospitalityTechnology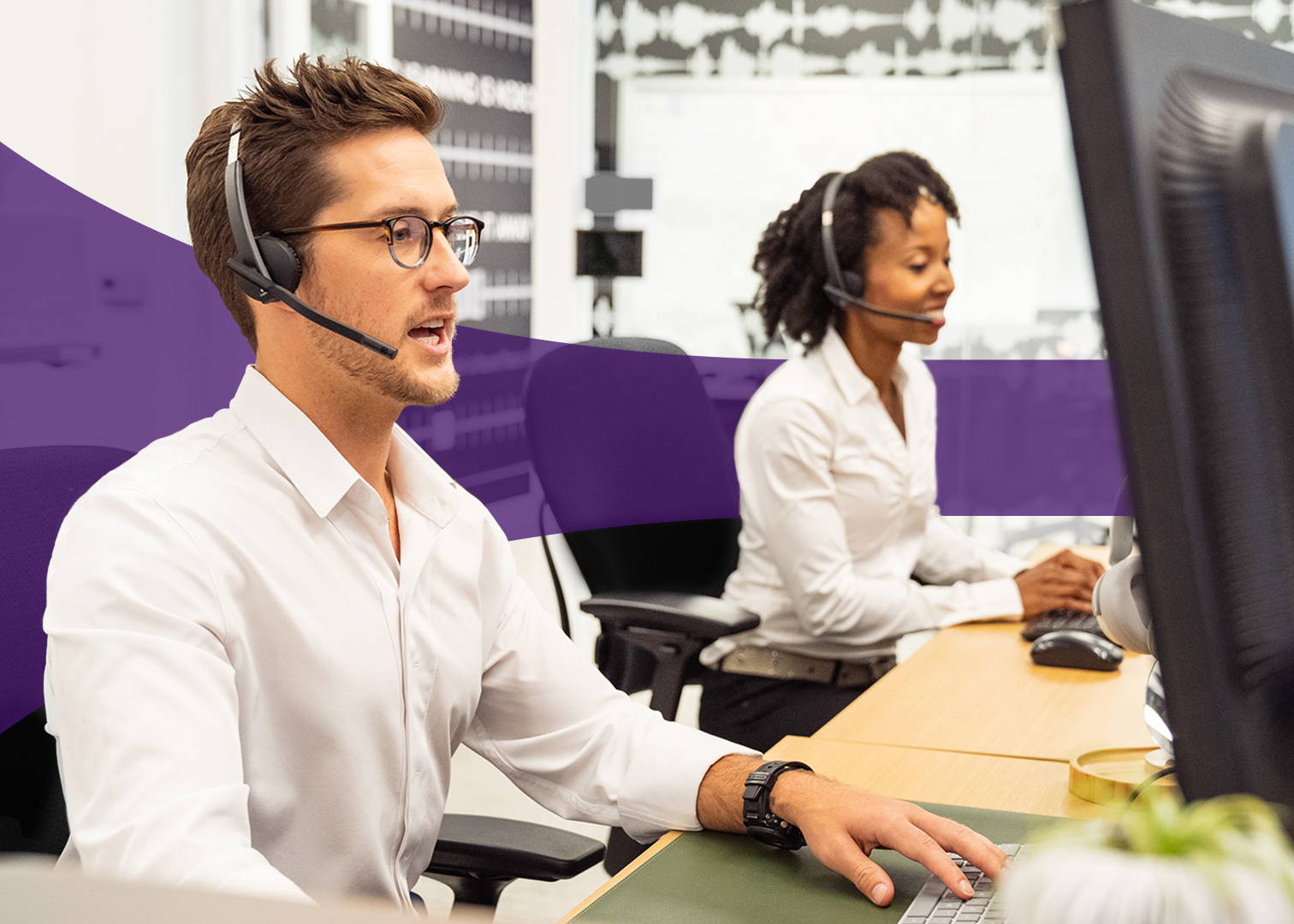 ---