March 30, 2020   /   Knitec Enterprises, Kayla Gephart
Whether you're a hotel owner hosting different groups of people or a high-tech company looking for a solution that integrates with your internal communication software, consider the below questions before purchasing your next conference room solution
KniTec is an authority in the fields of Hospitality and Pro-AV technology. KniTec did not receive compensation from any of the conference rooms solutions offered below. Based on our research, we believe the below recommendations represent the best products currently on the market. We'll continue to update this article as we test more solutions and new products become available.
Before you start thinking about all the ways you could possibly use your conference room (push pause on those dreams of world-wide foam parties for a moment), consider your typical week's worth of meetings: How many people are in the room? Do you need video-conferencing capabilities? What's your collaboration style?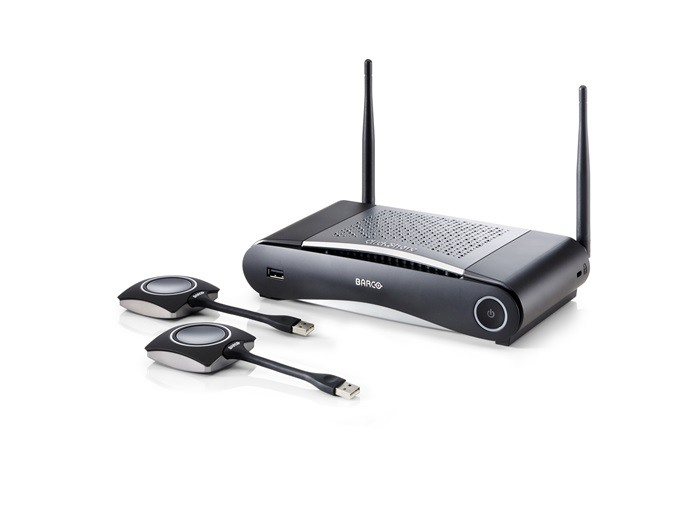 Video-Conferencing vs Screencasting
To what extent do you need to include people who are not in the room in your meetings? If you're just looking to project your laptop's screen to a larger display for others in the room to see, then a screen-casting solution may be perfect for you. Previously, the most popular screen-casting solutions were your tried and true projectors. But while there are projectors that now let you connect wirelessly, the majority of projectors still require a cable (and likely, a dongle, a word that is equal parts funny and anxiety-inducing to presenters around the world) to reliably connect. And many projectors are still hard to see with the lights on.

Increasingly, companies are moving away from projectors and towards a mounted professional display with screen-casting hardware. One of the simplest, most beautiful, and consequently, most popular solutions for companies looking for a screencasting-only solution is the Barco ClickShare CSE-200. This nifty device allows you to plug a receiver into your central screen and a smaller USB-powered "button" into your laptop. Anyone – including guests – can connect with one click and share right away, without the need for training. With this model, up to 2 people can share their screens simultaneously. Need even more collaboration power? Upgrade to the Barco CSE-800 for up to 8 simultaneously shared screens. And now with Barco's Android and iOS compatible application, you can cast directly from your phone or tablet, too. For hotel owners that want to provide screen-casting capabilities in their workspaces, Barco Clickshare is a solid fit.
If, however, you're like the majority of companies that want folks who aren't physically present in the room to join in on the fun, you'll want to look at video-conferencing solutions. In addition to screencasting capabilities, video-conferencing set-ups have a speaker, camera, and microphone. If this is more what you had in mind, keep reading for some video-conferencing considerations
Touchscreen Collaboration
So you're leaning towards a video-conferencing solution. Are your meetings more presentation-style with one person broadcasting updates? Or, is your typical conference room meeting a flurry of activity with people eager to build on — and illustrate — new ideas? If the latter, there are some incredibly functional and fun video-conferencing solutions with touchscreen capabilities that allow you –and the people joining you virtually — to annotate directly on your shared screen. See a graphic that could really help Karen drive the presentation home? Throw it up on the screen. Your meeting evolved into a brainstorming session? Open up a blank page and start drawing those venn diagrams.
Not all touchscreen solutions are created equal, however. For a non-reflective surface that is easy to see in almost any lighting conditions, feels similar to writing on paper, and has a pixel-precise touch that won't make you look like you're writing with your opposite hand, we recommend the Avocor-ALZ Series. In addition to its superior writing feel, the device broadcasts in 4K resolution at 60Hz, which means everyone will see your crystal-clear images with low-to-no lag. The ALZ series comes with a built-in PC and Logitech MeetUp Video Conferencing Camera that combines a powerful camera, microphone, and speaker into one unit that rests neatly on the display, keeping your conference table completely clear of technology. 
The Avocor-ALZ series comes pre-configured for Zoom Rooms, meaning you can launch a meeting without needing to connect a laptop at all. In practice, this looks like walking into your conference room and tapping "Meet" on your display to start the meeting. From there, you can invite anyone to join your meeting via email, even if they don't have a Zoom Rooms subscription. In terms of screen-casting, Zoom Rooms also allows you to easily share multiple screens simultaneously through a variety of simple, wireless screencasting options: share via one-click proximity, via their browser application, or Apple's Airplay mirroring. If you're looking for an aesthetically stunning, interactive, video-conferencing solution, we highly recommend the Avocor-ALZ Series as the best in the industry .

If you're the type of organization that likes to get in, provide updates, and get out, then maybe a touchscreen is something you can leave off your list. Or perhaps you already have a display in mind that you'd like to use. In either of those scenarios, check out the Logitech Tap Bundle. The Logitech Tap Bundle solution, like the Avocor-ALZ Series, utilizes the best-in-class Zoom Rooms software and Logitech MeetUp Camera but allows you to pair them with almost any display (in the industry, we call this a "display agnostic" solution). Once you've selected your display, the Logitech Tap Bundle includes everything else: Logitech MeetUp conference cam, mini PC and mount with cable retention, and the Logitech Tap touch controller to launch your meetings. And because it's powered with Zoom Rooms, you're able to take advantage of the same easy-invite and easy-screencast options discussed above.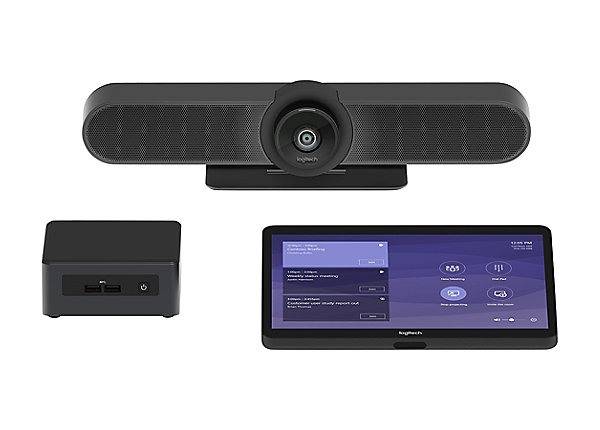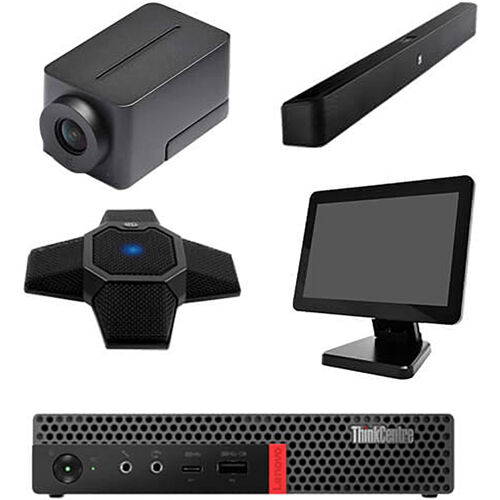 How many people are in your typical meeting? What is the size and configuration of your meeting room? Out-of-the-box, the solutions described above are best suited for conference rooms with 2-6 people. That said, all can be upgraded with higher quality cameras, additional microphones, speakers, and displays to accommodate much larger rooms. For instance, the Logitech Tap Bundle comes pre-packaged in small bundles (for up to 6 people), medium (for up to 10 people), and large (for up to 16 people) but can even be scaled beyond that for much larger rooms. When picking the size of the conference room hardware/software, choose the set-up optimized for the number of people typically seated in the room and dialing in, not the rare whole-company meeting.
If you're looking for a relatively inexpensive but powerful conference room solution, take a look at the Zoom Rooms Huddle Bundle. Unlike the Logitech MeetUp Camera, the Huddle Bundle has separate camera, microphone, speaker components. Although there are a few more pieces to manage, separate components allow you to centrally locate your microphone in the center of your table and mount your camera and speaker at the base of your display allowing for superior sound quality. You can also adjust the location of these components based on the size of your meeting, within reason. The Huddle Bundle has been carefully curated to include high quality components that work well together and can be configured to almost any size. The Huddle Bundle comes pre-configured with Zoom Rooms but is also compatible with other popular communication software (Microsoft Teams, Go-To-Meeting, Slack, etc.). Like the Logitech Tap Bundles, the Huddle Bundle is also display agnostic, so you have the freedom to select your favorite display. Think of the Zoom Rooms Huddle Bundle as an a la cart solution in which an expert has assembled the components for you.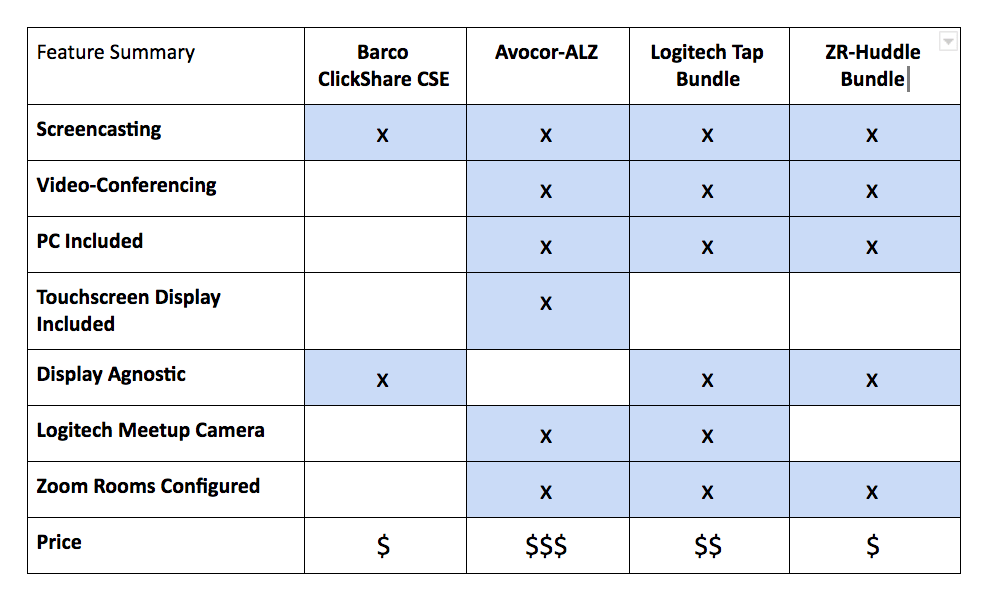 It may be easier on your psyche to just go with "the works," but conference room solutions can get expensive, especially if you're planning to update your furniture, too. Taking a moment to identify the features that are a need-to-have versus a nice-to-have will help you stick to your budget. 
That said, most companies replace their conference room solution every 5-7 years, and so when you're prioritizing features, select technology that not only supports your current work flow but also how you anticipate your team will work together in a few years. For instance, the number of people who work from home has grown 40% in the past 5 years (Fundera.com, 2020). Even if video-conferencing isn't part of your current work flow, if your company follows trends, it might be in the very near future.
#KniTecKnows Conference Rooms
With that in mind, for our money, we'll take the Avocor-ALZ Series. Although one of the more expensive options on this list, for your average-size conference room, you can't beat the sleekness and functionality of the Avocor display and the all-in-one Logitech Meetup Camera. We love that it keeps our conference room table free of technology and manages meeting invitations and screencasting within a single software. With Zoom's dedication to continuously improving their systems, we also know this solution will evolve to suit the changing workplace communication landscape – whatever that might be.
Ready for pricing? Want a second opinion? A shoulder to cry on? Our KniTec sales team is here. We've done the research and can make sure you're buying a solution that meets your needs at the lowest prices in the industry. 
Give us a call: 949-518-0596.
---